Love to The Berkshires
Over the years we've produced a lot of content and photoshoots from our home in Great Barrington and today I want to talk about the wonderful region where our home is located, The Berkshires. Not every American countryside is crisscrossed by so many lines of music and literature, by crumbling stone walls. The Berkshires, of course, has been beloved for centuries.  
We bought the house just after September 11 as an escape from city life. If you've never heard of it, the Berkshires is a quiet, rural area in Western Massachusetts. Our town is called Great Barrington and is nestled on the border of New York State and Connecticut. It's about a 2.5-hour drive from New York and is known for all four beautiful seasons. Whether I'm climbing out of the car and hiking through the snow, or I pull up and the birds have already created their spring nest in the chandelier on the front porch, the feeling of arriving in the Berkshires is absolutely amazing.
Here is a list of our favorite places and things to do in hopes that you will someday come to the area with your family and friends and enjoy it as much as we do!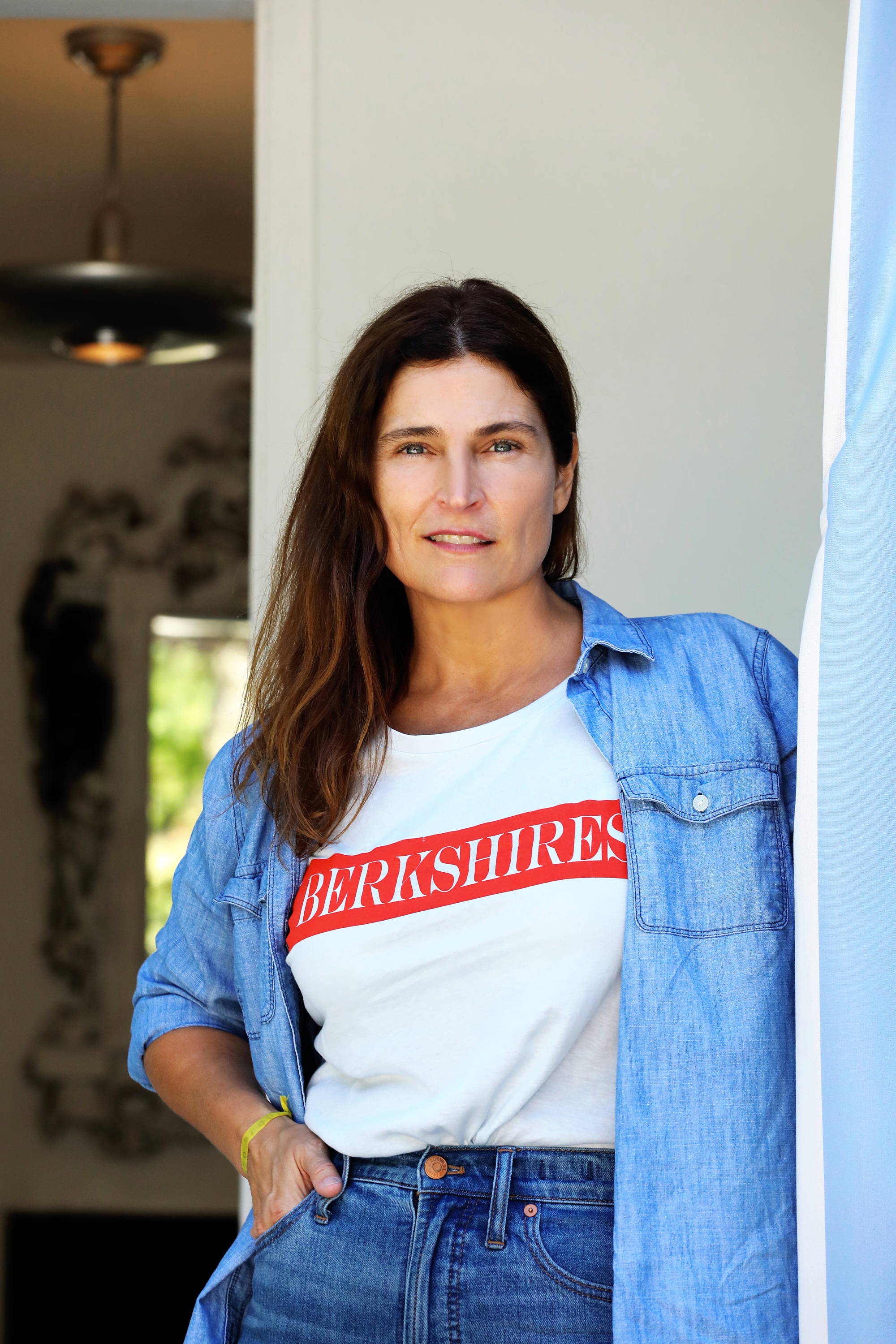 Antique shopping is one of Robert and my favorite past times. Saturday afternoons are a great time to go and if I had to narrow it down to two places it would be The Griffin and Great Barrington Antiques Center. The Griffin is great for vintage clothing and gifts. Connie and Paul Griffin have held a passion for classic vintage and also an eye to curate an outstanding collection out of a crowded stage of estate sales, second-hand shops, and consignment offerings. And, Great Barrington Antiques Center is 500 square feet of an ever-changing vendor base and is great for wandering around all of the different booths looking for that perfect treasure.
Also, mark your calendars because you can never count out the 3-times a year Brimfield Antique show. It's the largest antique show in the world, held since 1959 in Brimfield, MA. Next one May 14-19th!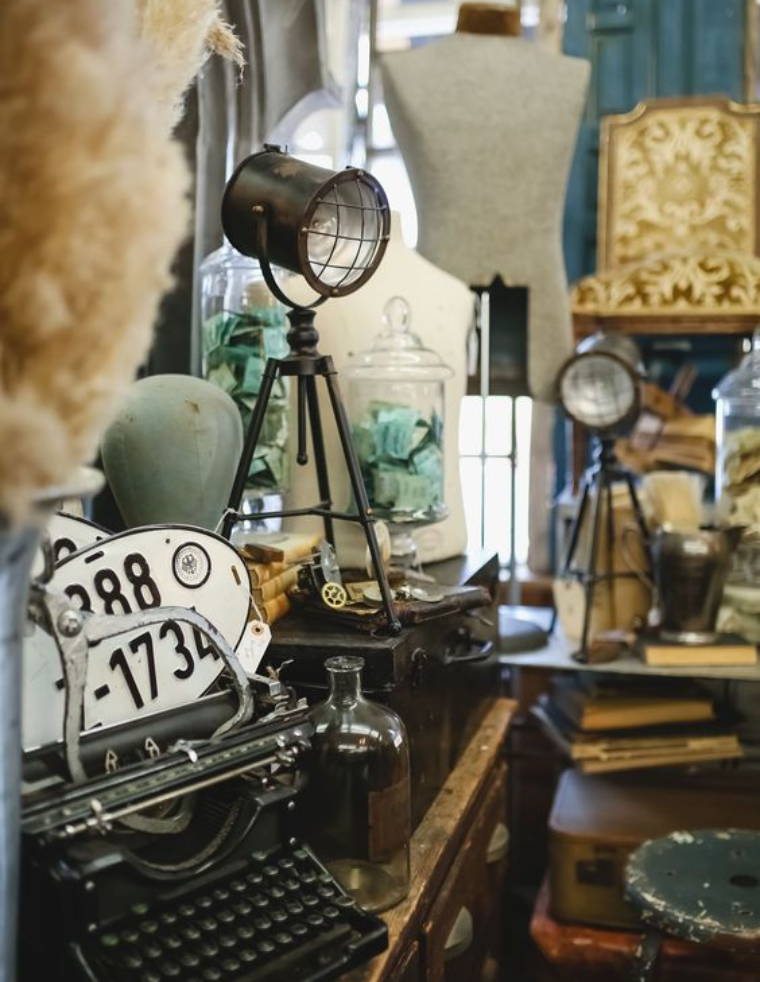 Photo: Pinterest Search (no photographer listed).
For Coffee: Fuel (for good, strong local coffee). FUEL is the daughter of the Great Barrington Coffee Roasting Company, founded by Heather Austin. Heather brought the first espresso/cappuccino emporium to Great Barrington and we thank her for that. It fuels our family!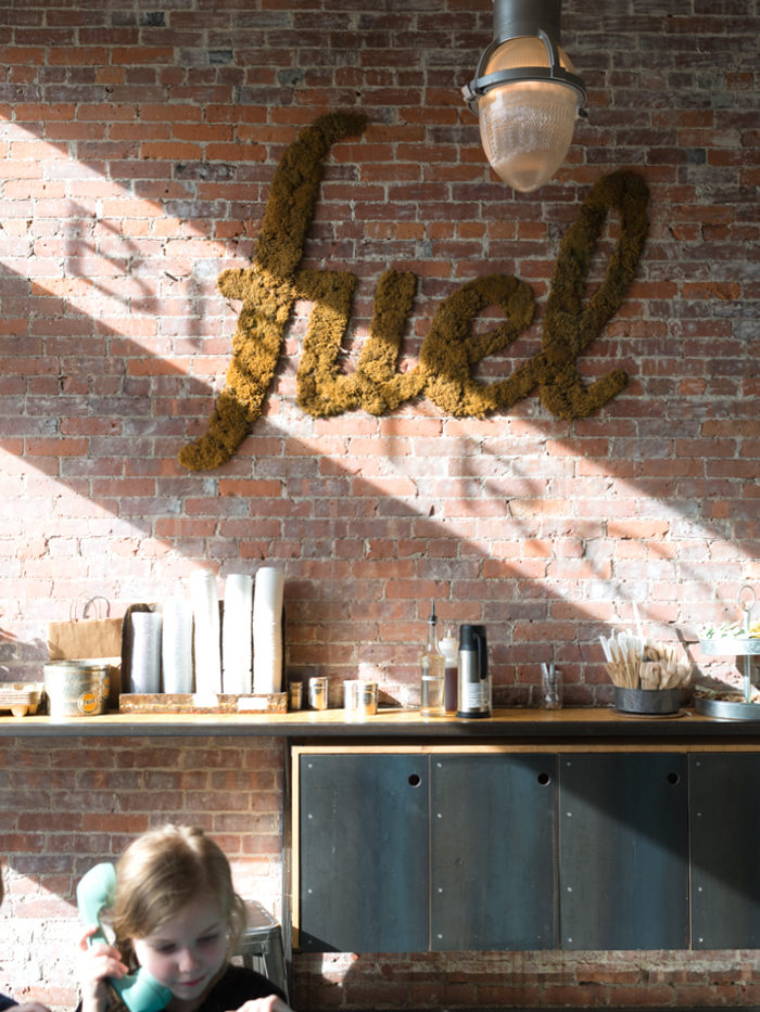 Fuel Coffee Photo by: Fleurshing Blog
When I need that perfect gift, I can always count on One Mercantile. I love to shop small, local businesses and this one has it all. Workshops, cool kitchen items, and vintage inspired home goods and gifts.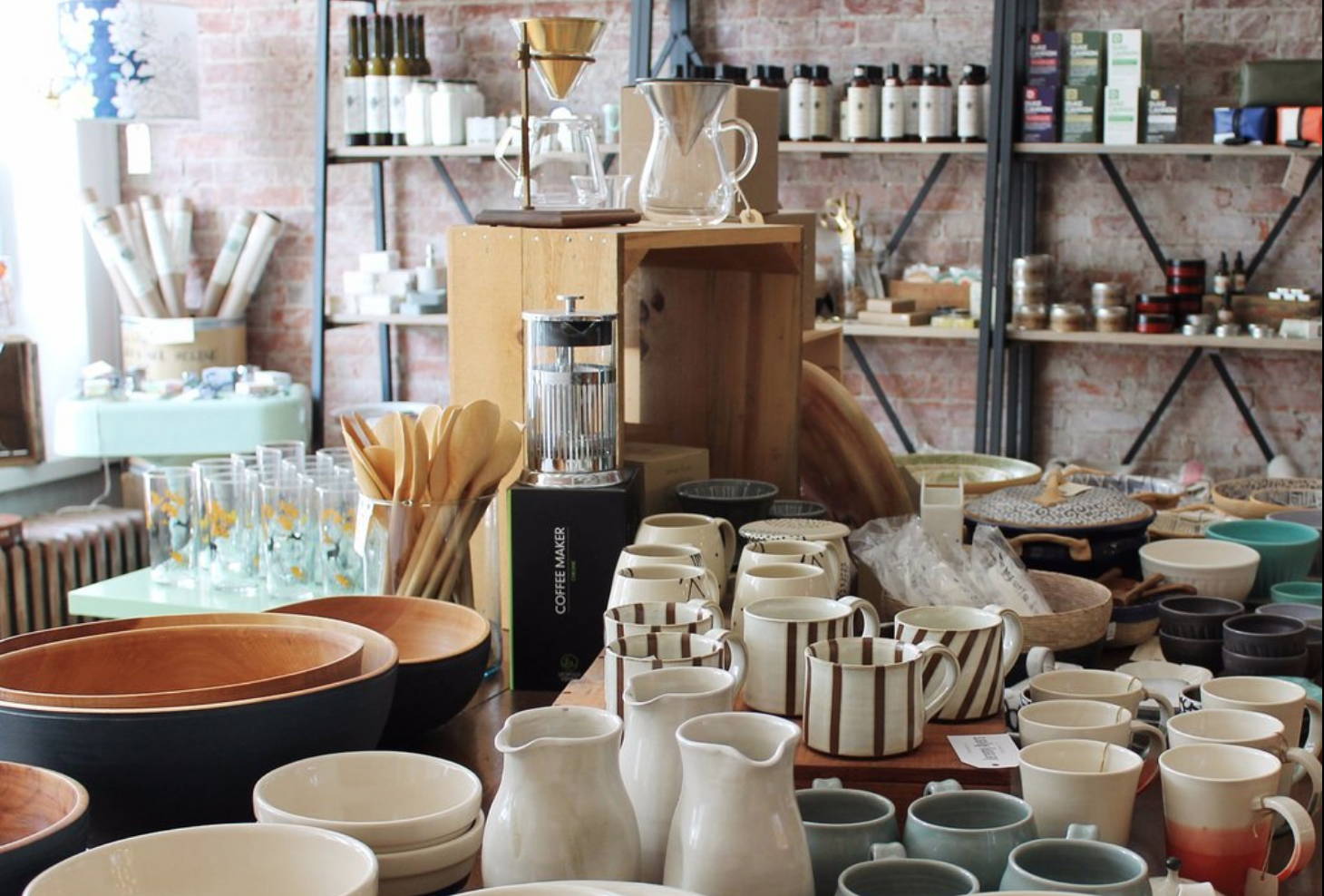 One Mercantile. Photo: One Mercantile Website
For that perfect day trip filled with art and exploring:  Mass MOCA, an amazing Museum and event space with wonderful events and exhibits happening year round. Last Fall's exhibit that has stuck with me ever since was called Tree Logic by NATALIE JEREMIJENKO. In Tree Logic: Inverted, the trees produced the most unnatural shapes over time, raising questions about what the nature of the natural is.
Also, Jacob's Pillow dance institution. "The Pillow" is a treasured 220-acre National Historic Landmark, a recipient of the prestigious National Medal of Arts, and home to America's longest-running international dance festival. Keep an eye on the calendar for an ever-changing list of amazing workshops and performances.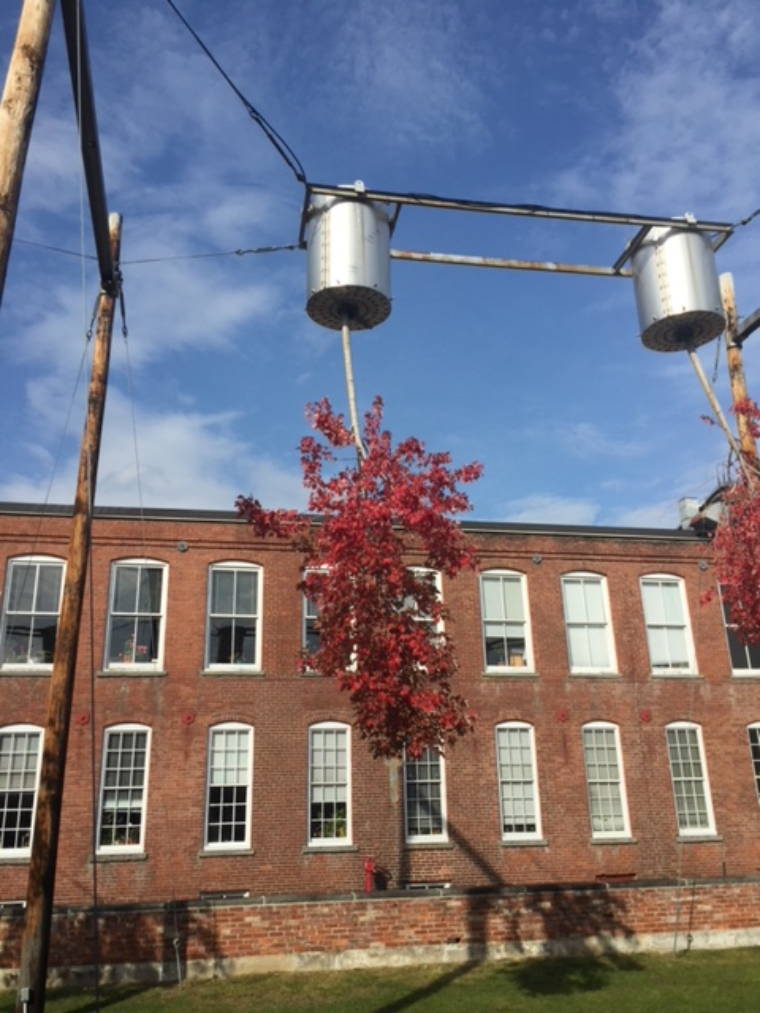 Mass Moca: Tree Logic Exibit 2017
For family dinner or cocktails out, our go-to is The Prarie Whale. The name is a Melville reference of sorts — as whale oil declined as a lighting source in the 1840s, one substitute was lard oil from hogs, or "prairie whales. Brunch entrees range from around $10; Berkshire beers from $6; cocktails, including the Harvey Whalebanger, $10! The friendly atmosphere and service never disappoint.
We also love Cantina 229, farm to table restaurant located in New Marlborough. There are fun things to do while you hang out with cocktails outback. Our sons love the tightrope trial course that lets you test your balance, walking on the rope tied between two trees.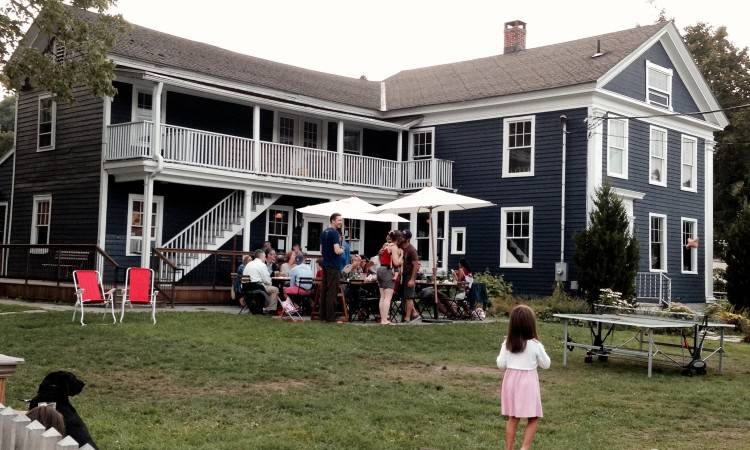 The PraireWhale: Photo taken from their facebook page.  
We love to walk to Mom's country cafe for breakfast, it's always spot on with their comfort food and cozy atmosphere.
And, for lunch we love Botanica for a healthier fare with a beautiful aesthetic.
Botanica. photo: SF girl by the bay blog
During the Winter months for cocktails and wine: I love catching up with my local friends in town at The Red Lion Inn. This historic 17 room guest house also features a restaurant and pub that has an extensive wine list! So charming.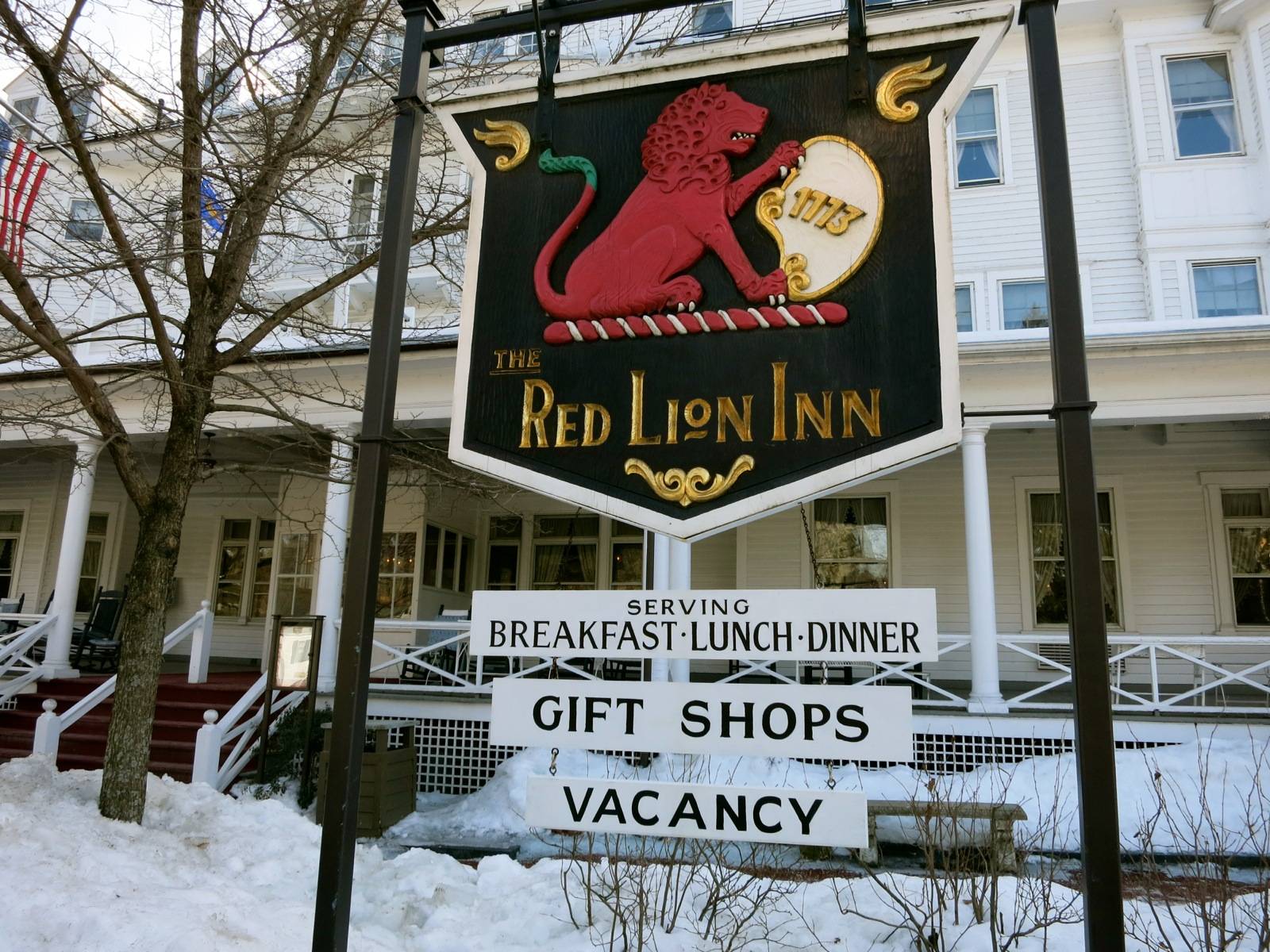 The Red Lion Inn. photo: google images
When it comes to candy and toys, I've got you covered. We always make a trip to Robin's Candy Store to pick up our favorite nostalgic classic treats like wax lips and candy cigarettes or local gourmet chocolates. And, for toys, we love Tom's Toys. The always helpful owner, Tom Levins can almost always be found in the store which is located on Mainstreet in Great Barrington. They have the best selection of stuffed animals, science and crafts kits, dolls, construction toys, games, books, blocks, cars, trucks, puzzles, whatzits, gadgets, new toys, classic toys, and every other fun kind of toy you can think of.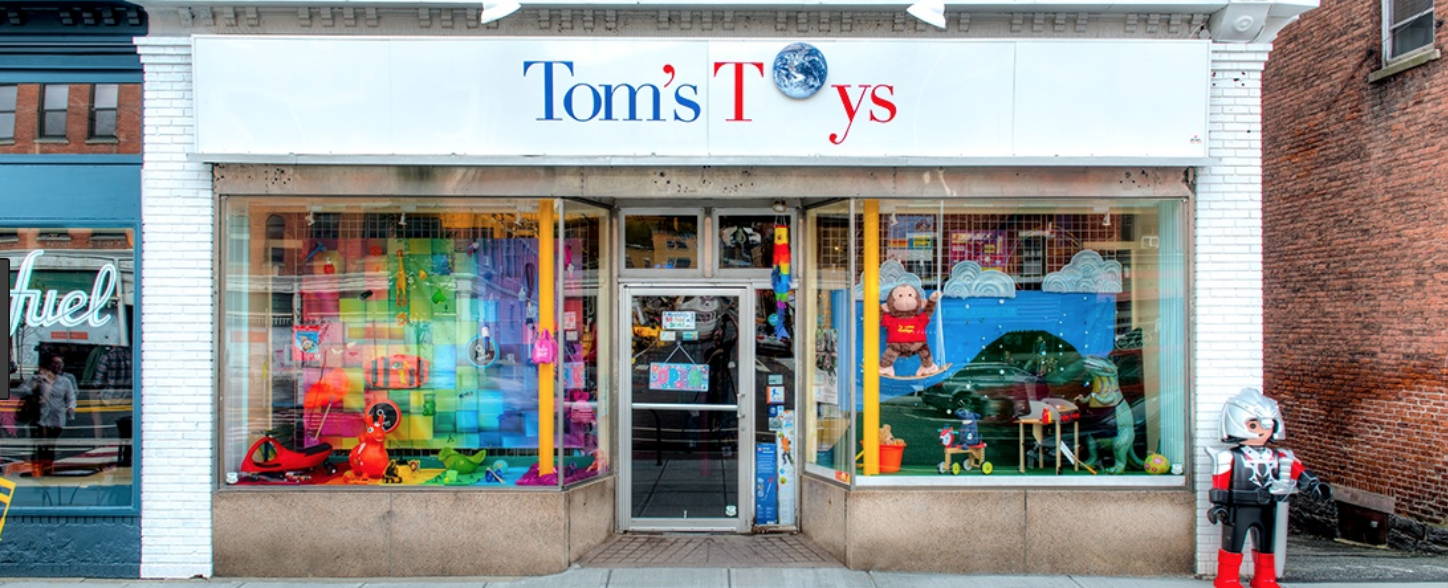 Tom's Toys. Photo: google images
Last but not least, our favorite outdoor activities in the area for the entire family:
We love a good hike at Bash Bish Waterfall. Bish Bash falls is the highest-drop waterfall in the state. It is a 2 mile heavily trafficked out and back trail that is good for all skill levels best used from April until November. Dogs are also able to use this trail but must be kept on a leash.
For snowboarding and skiing, we go to Butternut Basin located on Warner mountain. Our family has been enjoying this mountain for years.
Taft Farms for pumpkin picking and hay rides in the Fall seasons.
Saturday's from 9am-1pm: Great Barrington Farmer's Market. Beautiful local food.
And, if you're looking for a spa day to treat yourself perhaps while the family is on the mountain, I love Body and Soul Spa. Founded in 1987 by life partners Doone and Stephen Marshall, Body & Soul was the first-day spa in the Berkshires. It has been offering therapeutic massages, facials, and other body-and-soul-satisfying services and products ever since.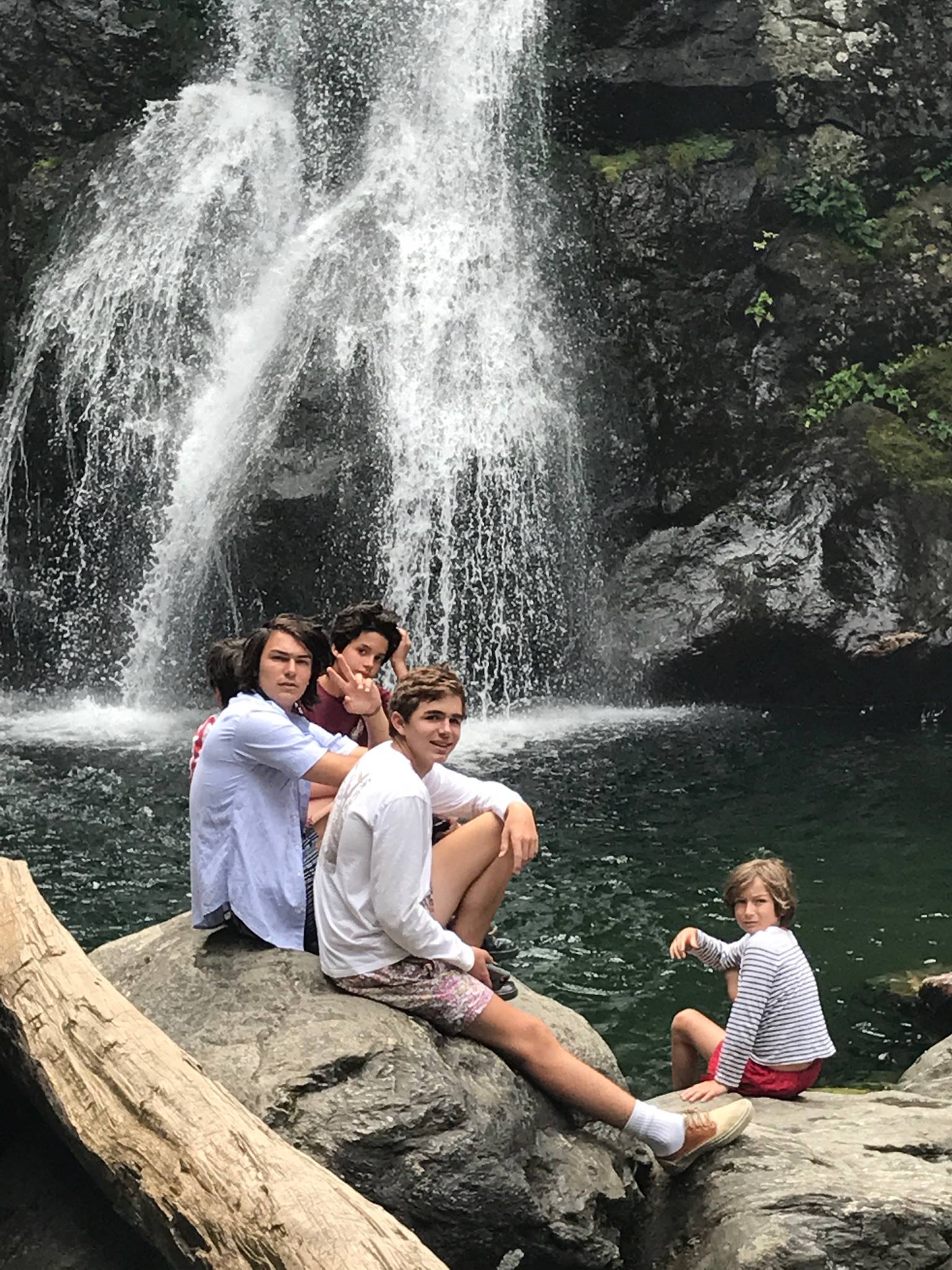 We love the Berkshires. I recommend trying something other than a beach town. Come explore country life and incase you need a place to stay, our home is your home! Feel free to rent it. For rental inquires email: claudia@berkrentals.com // www.berkrentals.com