The Novogratz-Designed Timber Cove
Some of our favorite design projects are boutique hotels.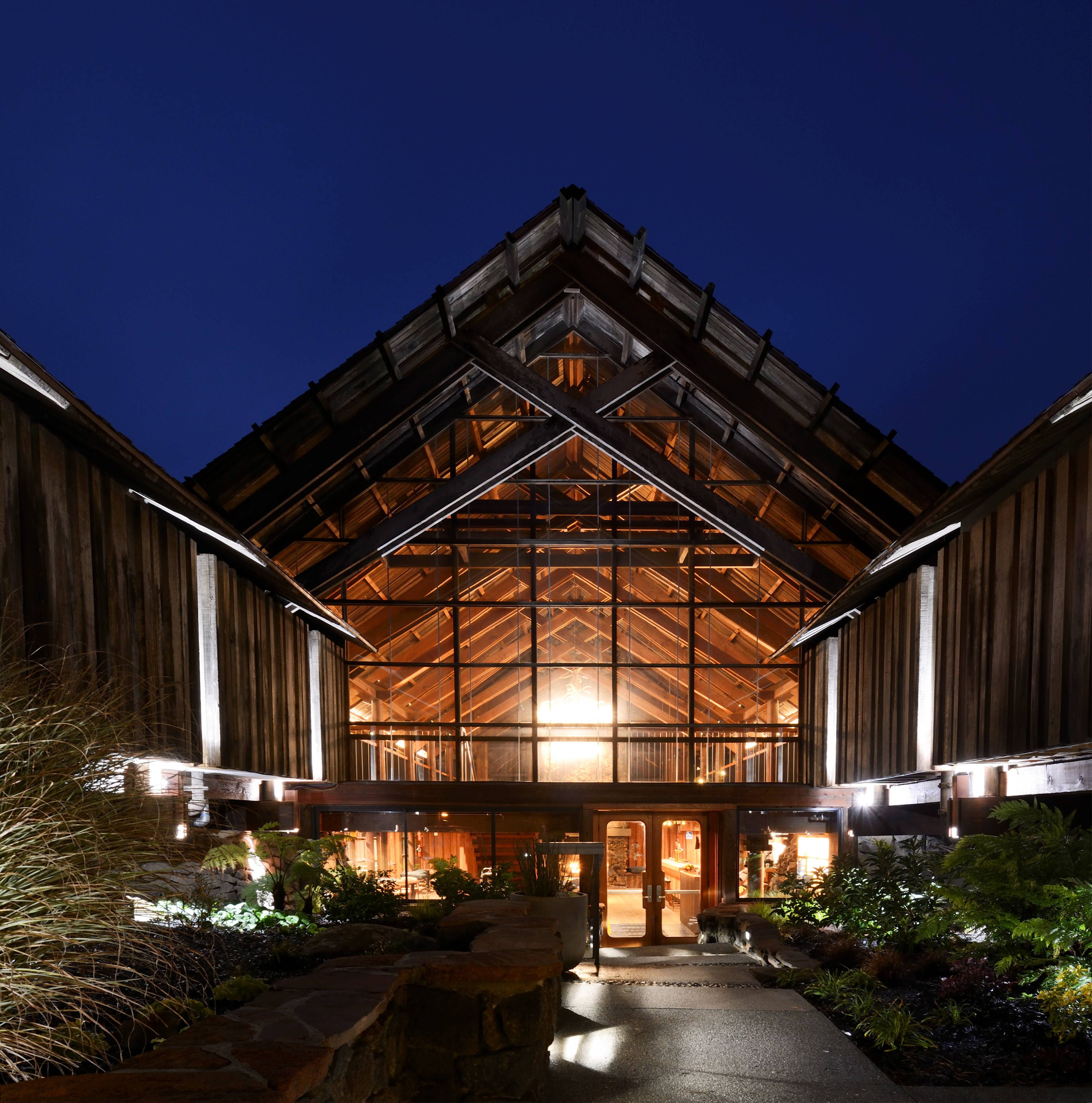 The Novogratz brand is all about boutique living. To Robert and I, this means a bespoke, well-curated, and personalized experience. We love to design boutique hotels, not only because there is so much potential for crafting that perfect experience, but because we're able to offer guests the opportunity to see the best of the region, and step out of their comfort zone for a night away. (And for that night away, we've got a discount code for you! You'll see it at the end of this post.)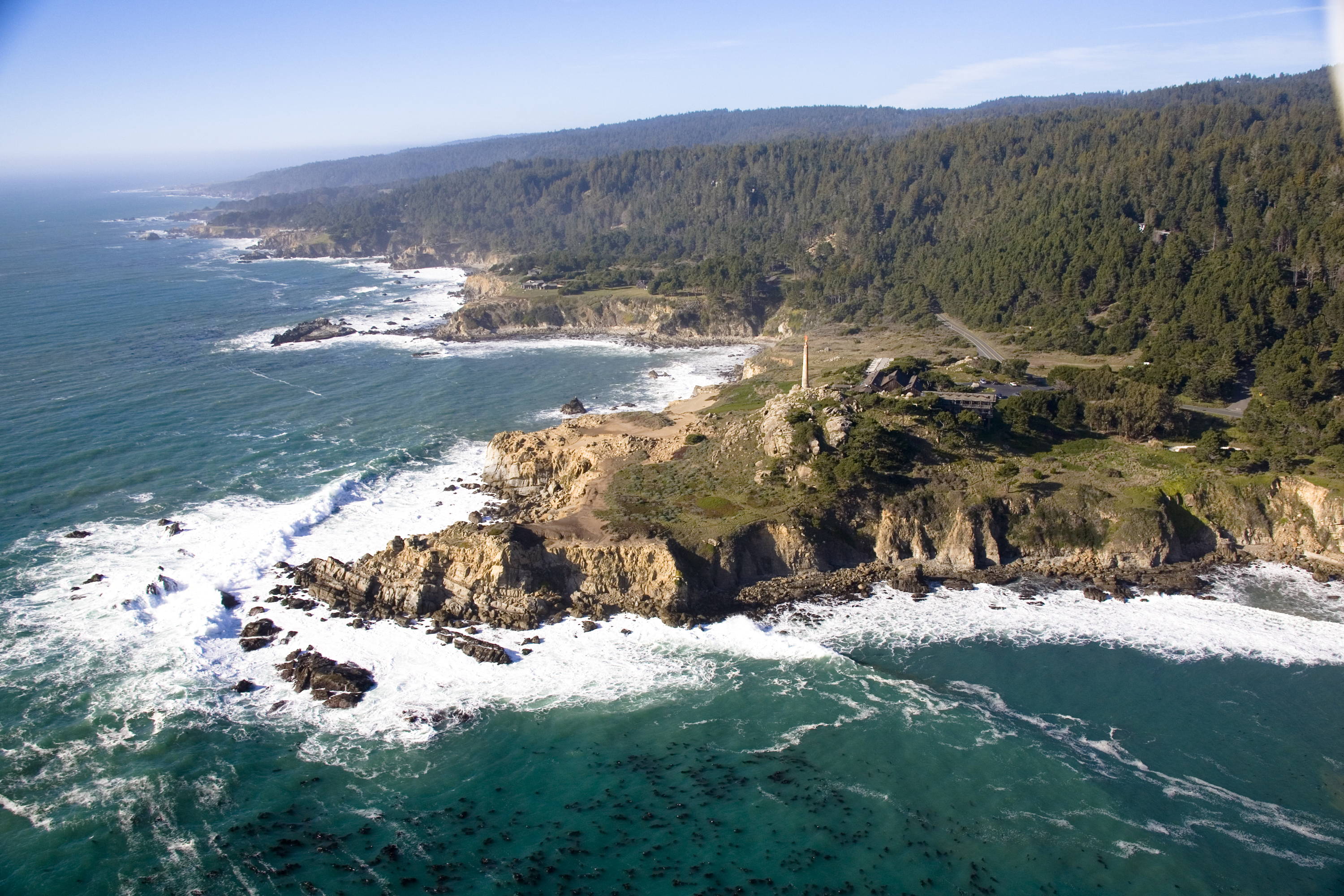 For Northern California's Timber Cove Resort, the location can't be beat. It's located on 25 acres of a quiet, secluded stretch of the Northern California coast. It's a short drive from SFO, and I think it could be one of the most beautiful drives on earth. It was the first time Robert and I had been to this part of the country and we couldn't believe how beautiful the colors of the rugged coastline were. As we designed the property, it was important for us to highlight the location, not detract from it.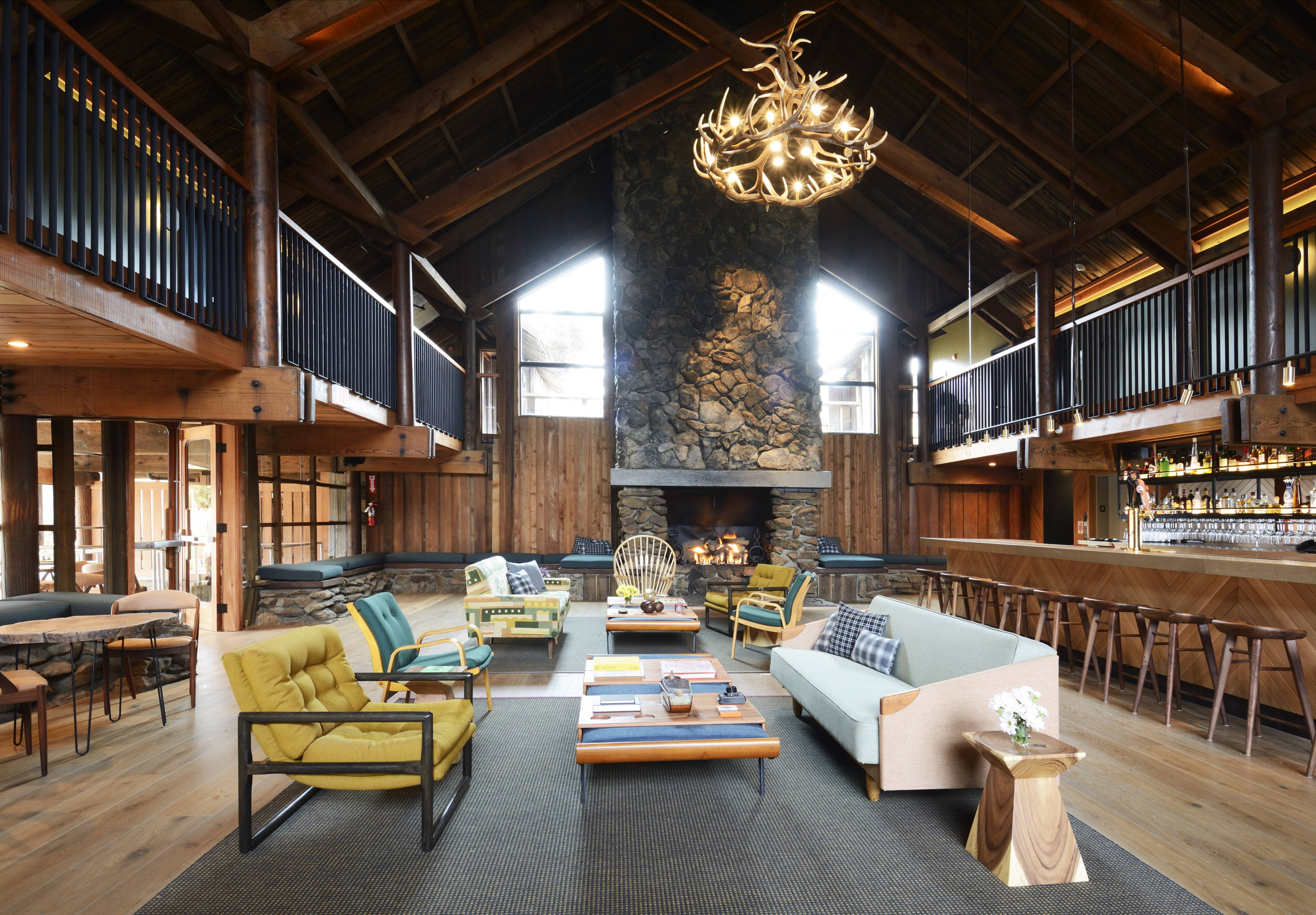 The lobby, which is connected to the bar.
The property was originally built in 1963 by famed San Francisco architect Richard Clements Jr. He wanted to have the dramatic A-frame blend into the natural surroundings of the coast, using redwood and tons of stone to achieve this. Working with Gensler Architects, we kept these elements front and center. When you enter the hotel, the "lobby" is actually a great room that we designed to feel more like a living room. The color palette is earthy with modern and retro pieces. There are preppy textiles, worn leather, and plenty of materials that reflect the area.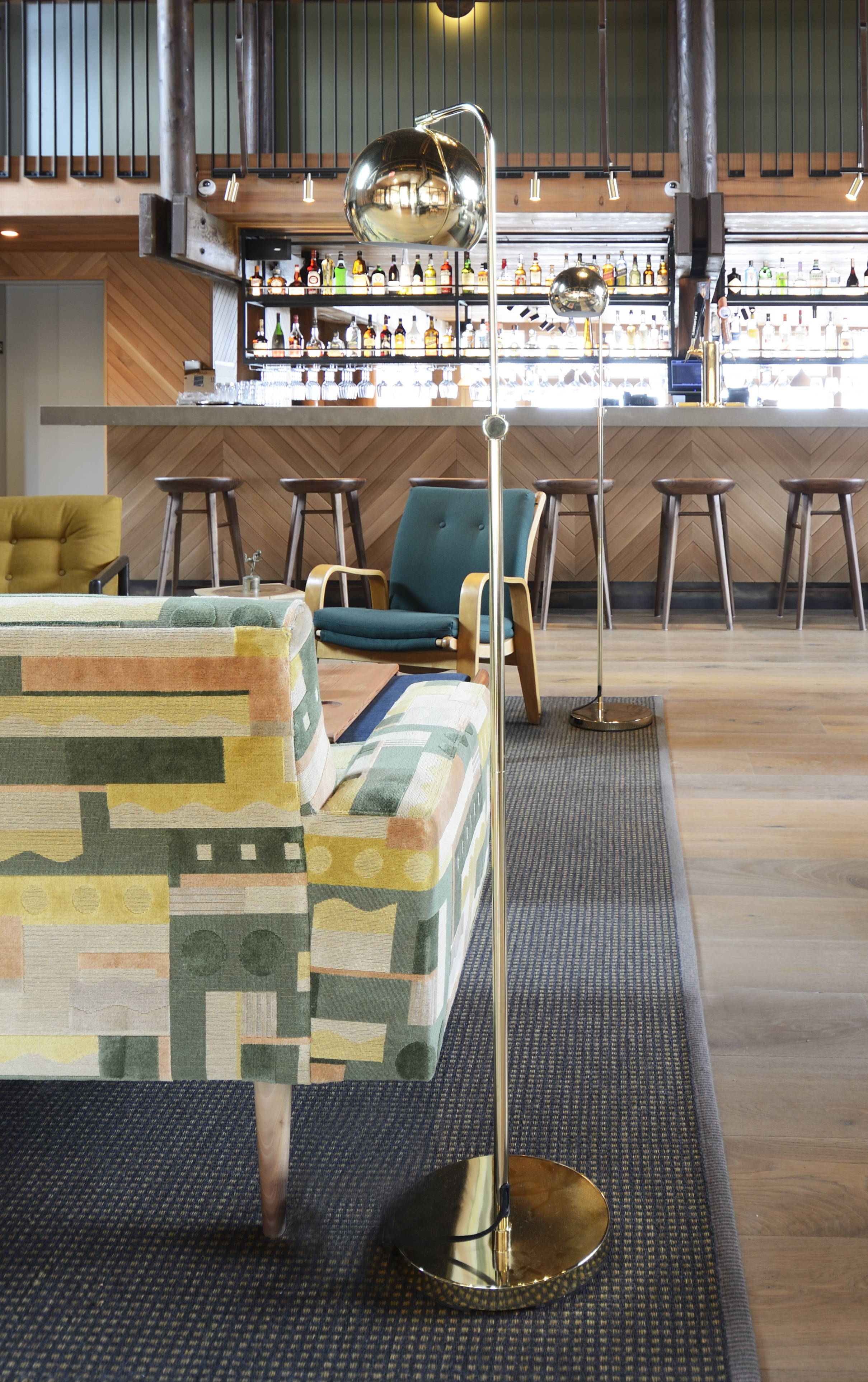 The best seat in the house.
A key element in boutique hotels is to blend that high-end hotel vibe with elements of home. We made sure to stock the great room with our favorite design books and fun games. On weekends, there's live music. It really is a communal place where everyone gathers. The last time we visited, there was a wedding that weekend. Guests were arriving and greeting each other at the bar; it was clear they hadn't been together in awhile and it made the energy in the room so joyous. It felt like a big, happy home!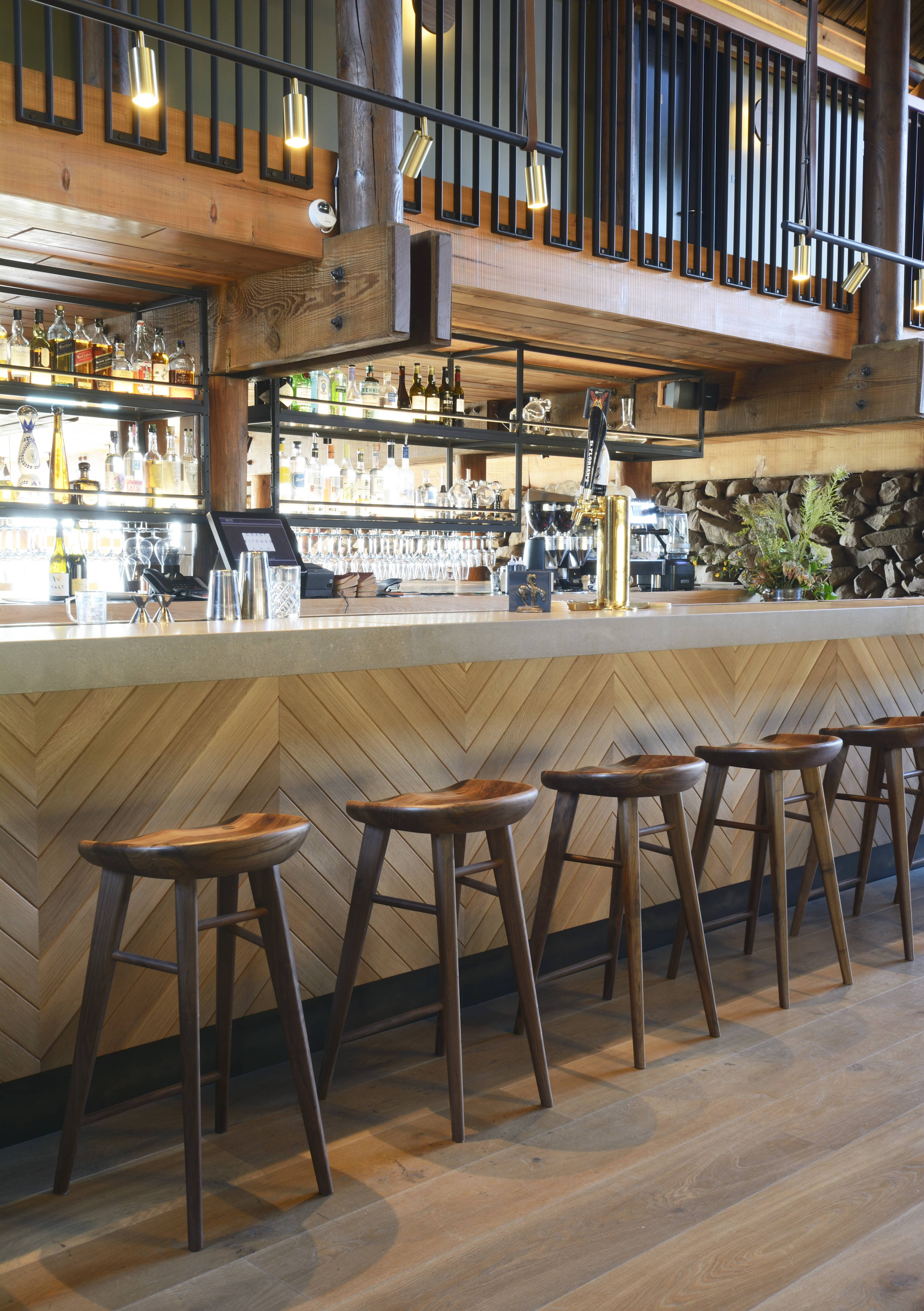 The bar is the center point of the room (as it should be). Here, we kept the design minimal but impactful. Natural woods, stone, and a hint of industrial flair. And since the hotel is so close to wine country, they've got a great selection! I enjoyed ending the day with a glass or two, while Robert opted for the bar's famous Sonoma Garden Mules (a fresh take on the Moscow Mule).
The floating shelving allows light to flood through the bottles, which creates a warm, romantic glow. Directly on the other side is the restaurant. I love how the spaces are connected yet separate for two different experiences.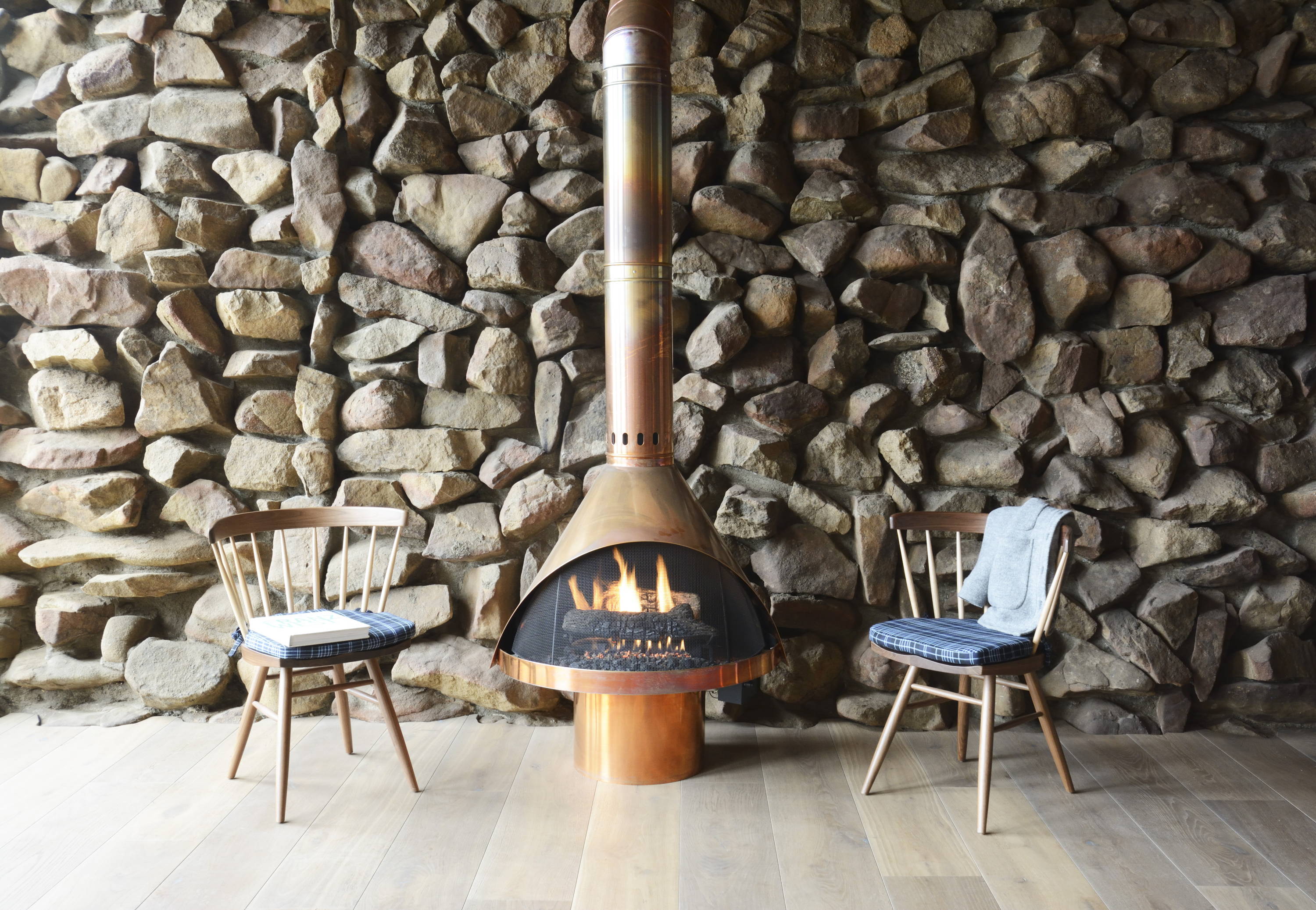 How pretty is this stove? The copper will patina with time, and I think it's a charming feature in front of the stone wall. The mix of materials (stone, copper, wood) is really beautiful, but the best part is these seats offer a front row seat to the Pacific Ocean (and maybe a whale or two)!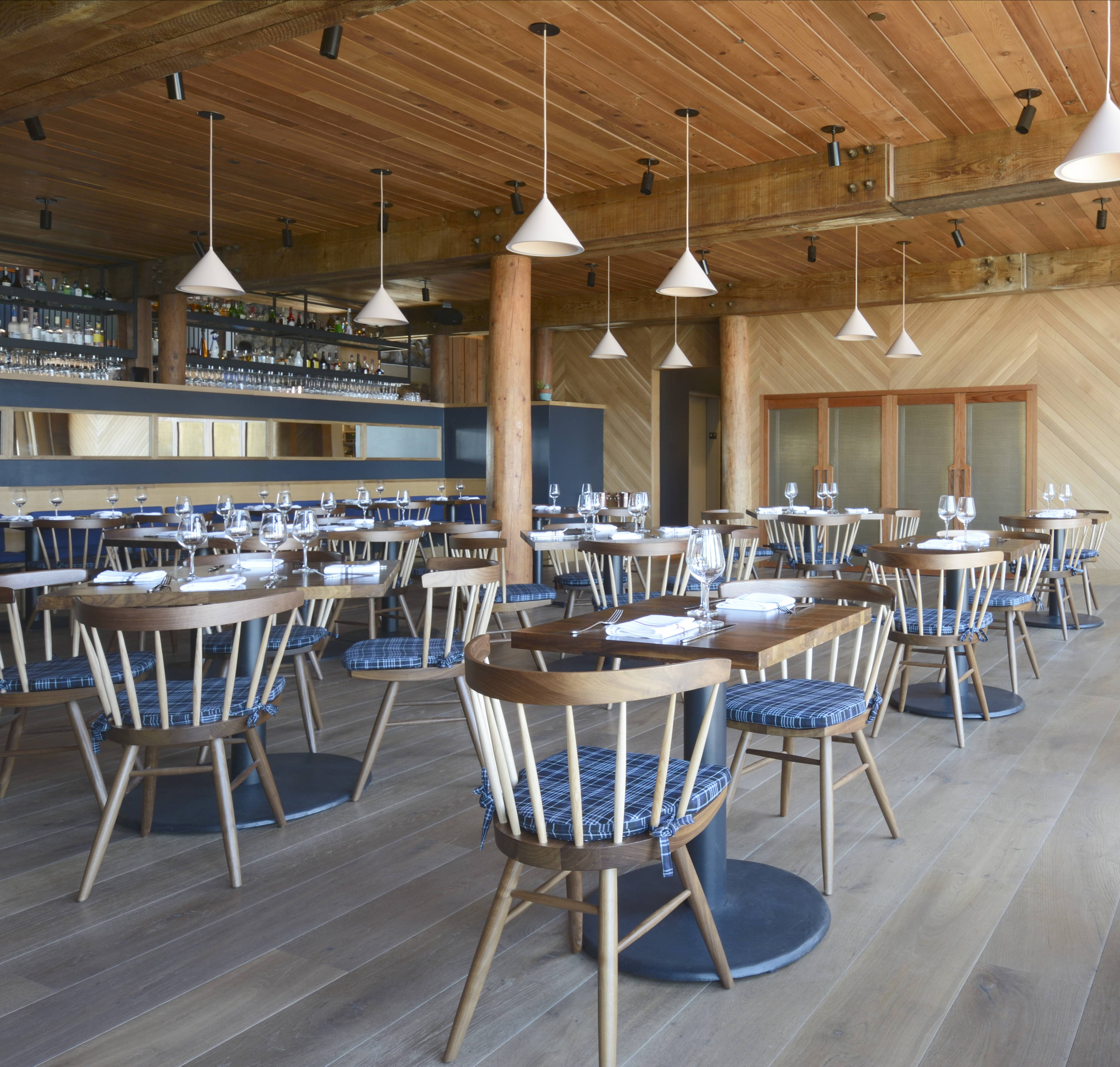 We updated the restaurant, Coast Kitchen, so it would be chic and casual. The hotel brought in a really magnificent and talented chef. The food is as good as the views!! I have to mention how much I loved the roasted local halibut. It was such a memorable meal!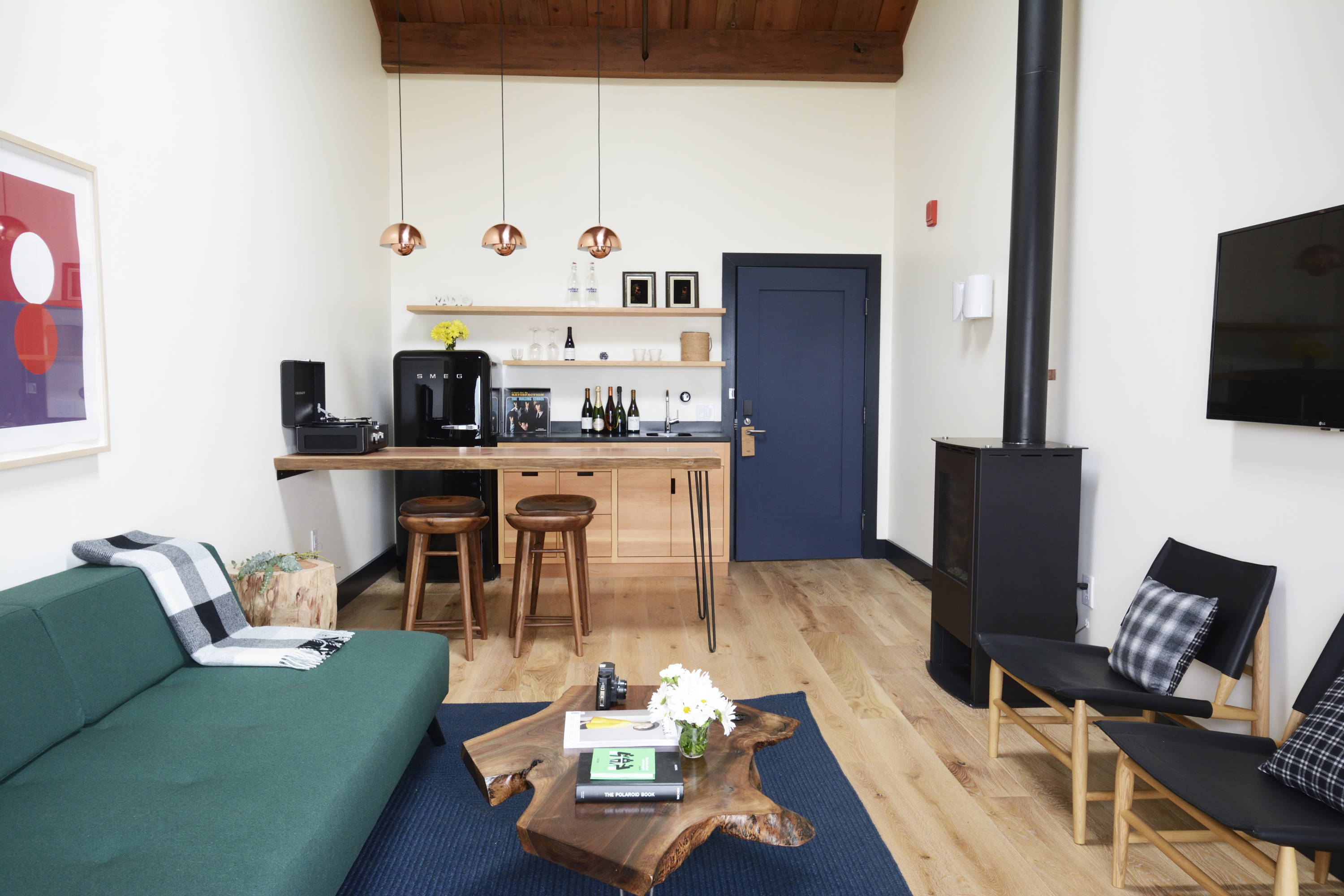 A guest suite at the hotel.
The guestrooms were designed to feel more like a small, stylish apartment. When Robert and I travel, whether the kids are with us or not, we like it to feel more like a private vacation home and less like a generic hotel room. If you can't tell, the color palette is reflective of the California coastline. There is lots of texture, blue, and touches of gold and copper. The way the light dances on the ocean waves really inspired us with this space!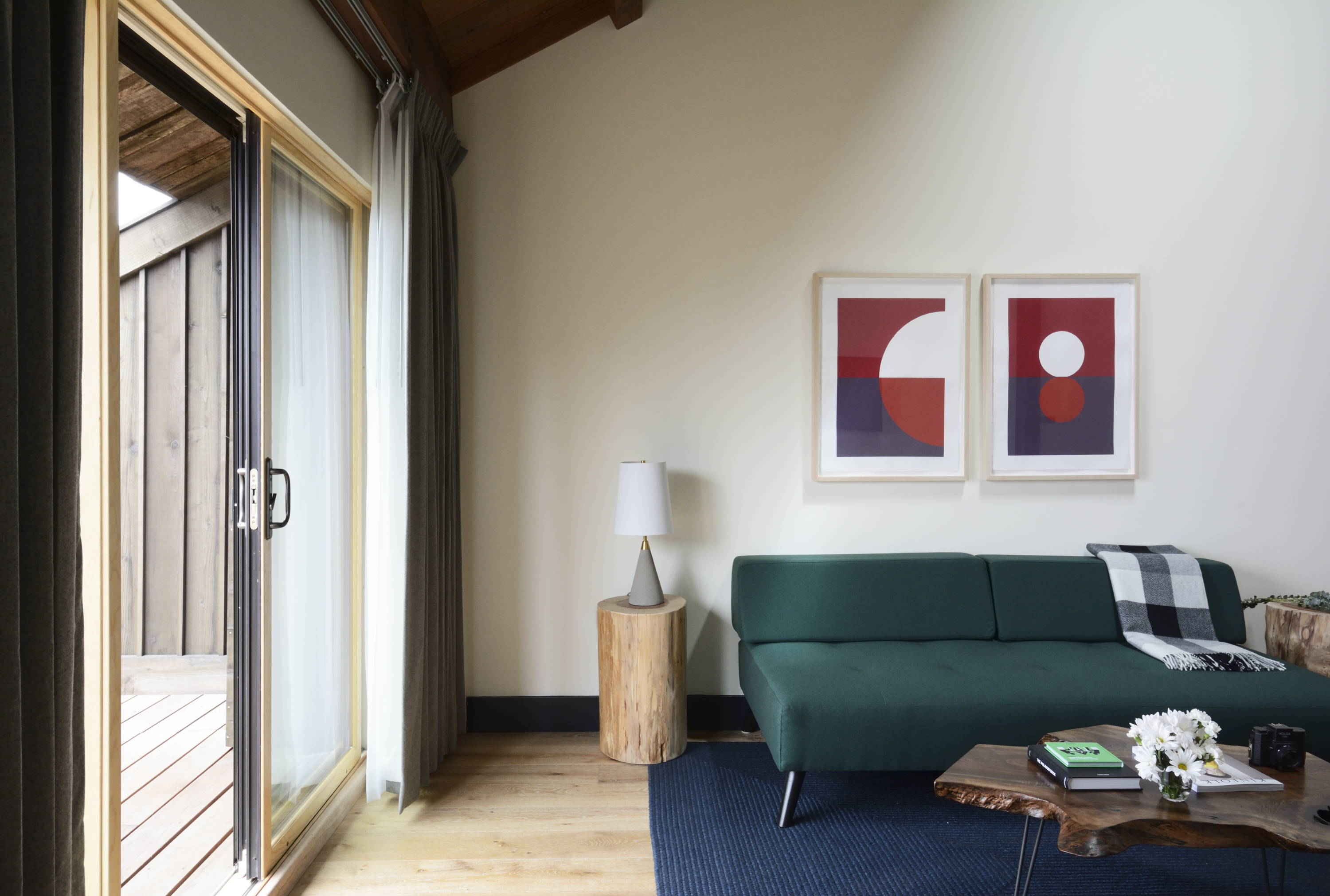 For art, we again wanted to make sure we weren't competing with the view outside. We are known for color, of course, but we kept it simple. The pieces aren't too jarring, and complement the exterior.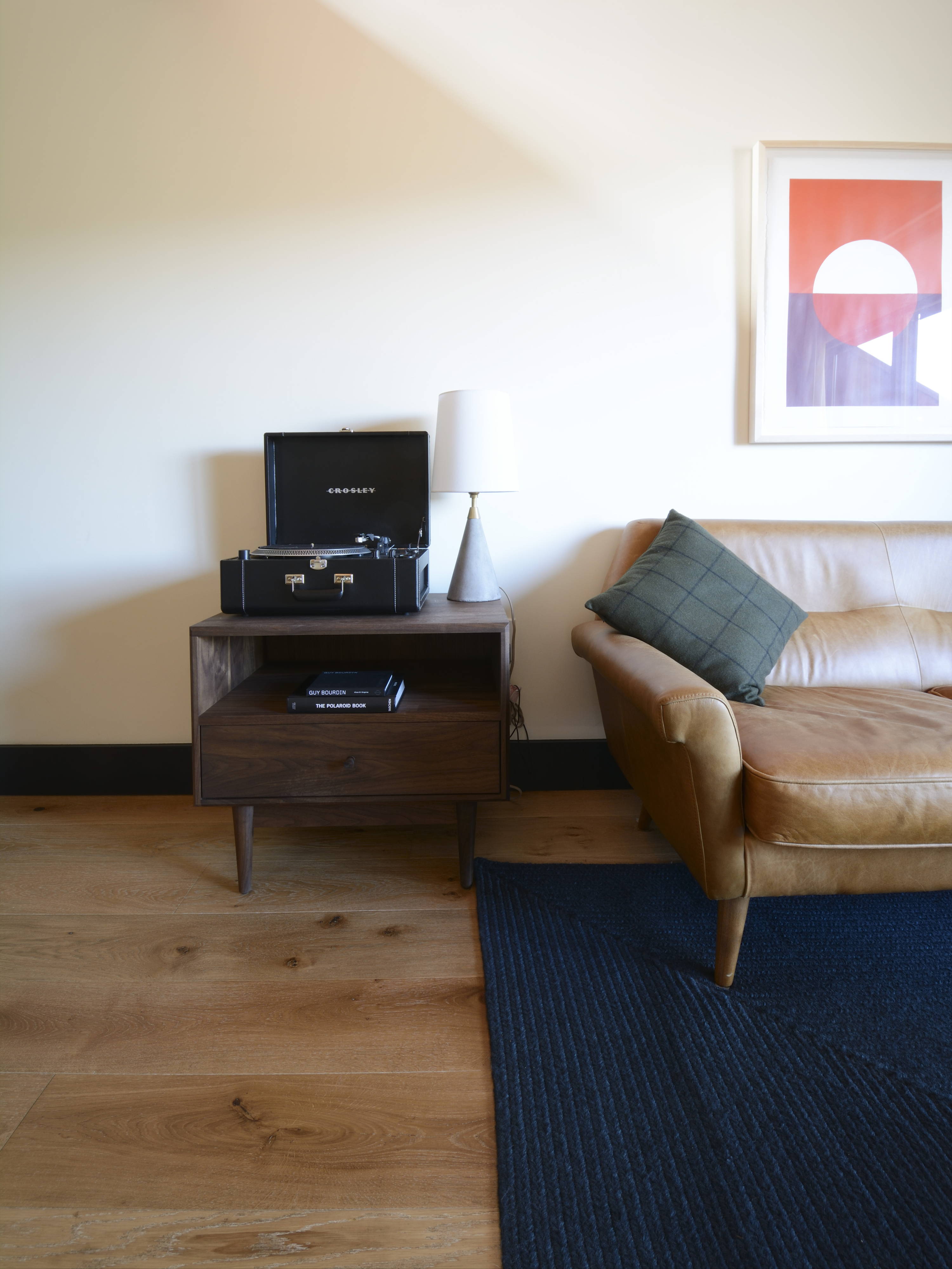 Each room is equipped with a record player.
We think a key element in the boutique experience is music. It really makes you stop and slow down. For me, having a record player is a subtle encouragement to put down the cell phone! You can choose your favorite record, pick up a book, or just stare at the ocean and reflect. When you're on a vacation, emails and Instagram can wait!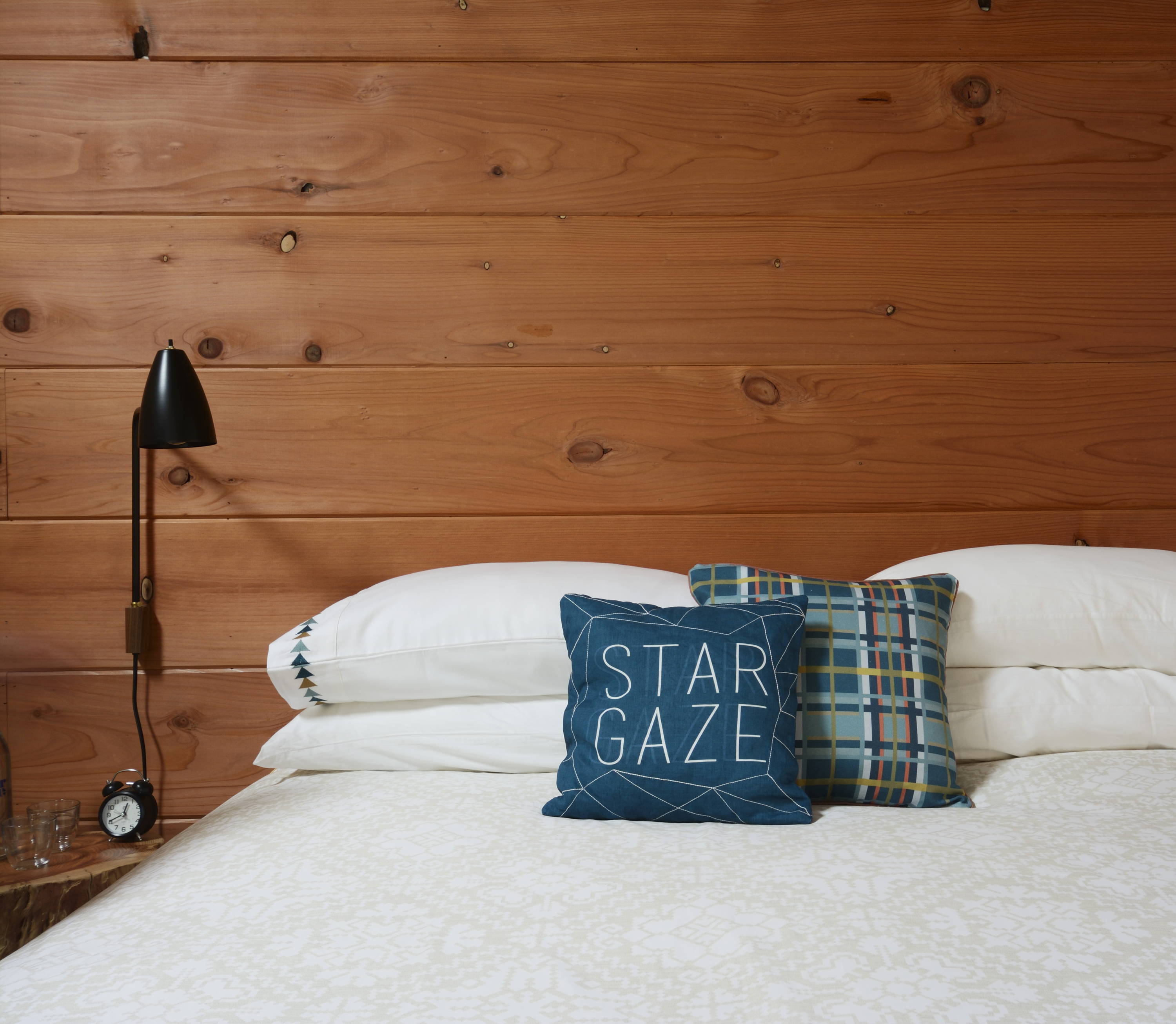 This picture always makes me laugh. I had one of the best nights of sleep in my life in this room! Back at home, one of my seven kids (or one of their friend's who is sleeping over) is sure to wake me up with some sort of emergency. Here, it was just the sound of the waves and the wind.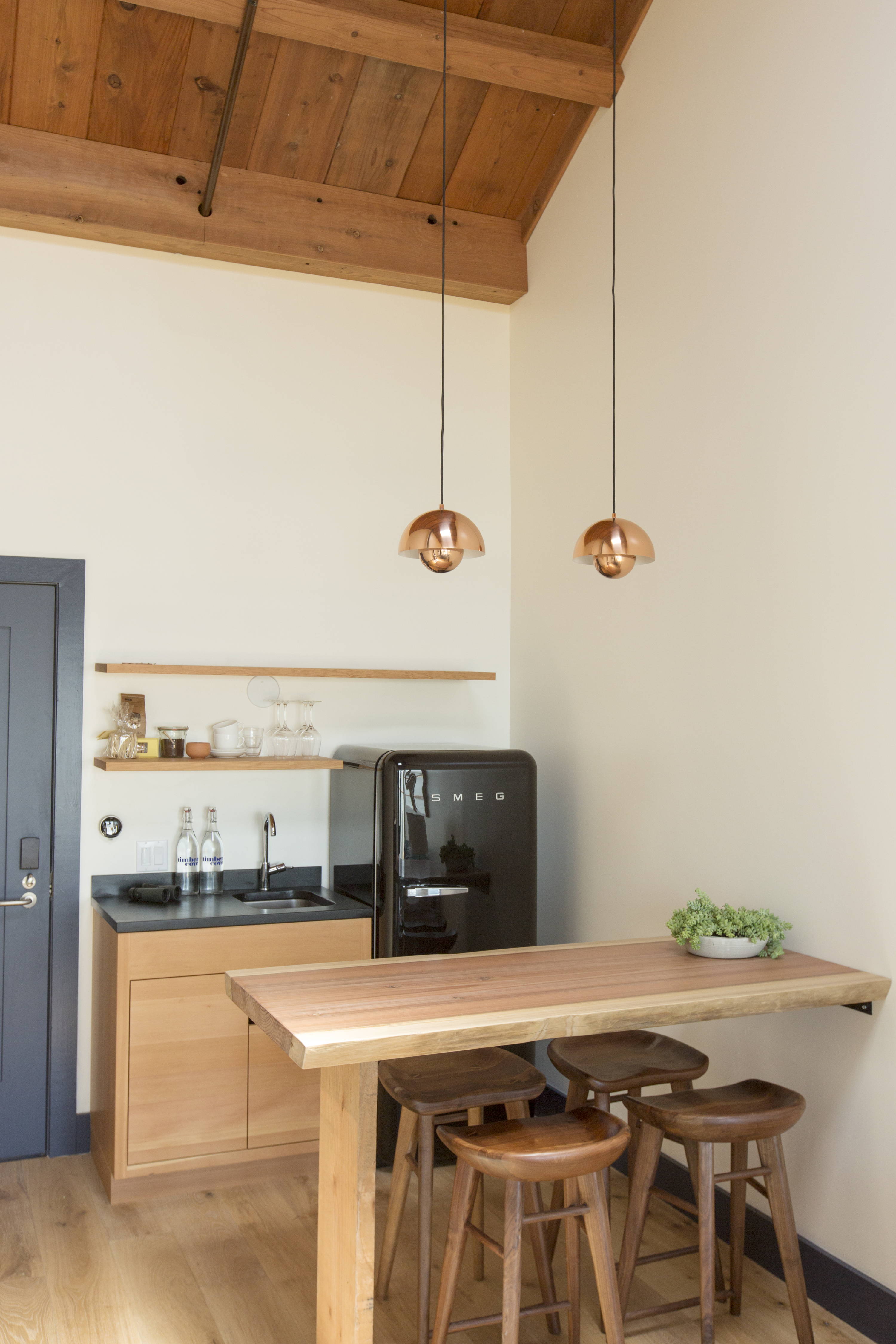 The rooms at the Timber Cove have a simple kitchenette. I really love the vintage look of Smeg and knew their refrigerators were key to getting the look we wanted. While preparing a huge meal on vacation doesn't sound too appealing to me, I think it's really nice to have the essentials. You can wake up early and prepare a hot cup of pour-over coffee. Again, it's all about slowing down. We finished preparing our morning cups and actually sat down to enjoy it. What a difference from our life in Los Angeles! That alone will keep me coming back to Timber Cove for years.
 
What are you waiting for?
We are so proud of this property and wanted to make sure our friends and followers had the opportunity to enjoy it as well. Timber Cove Resort is offering all Novogratz fans 20% off their Best Available Rate, Sunday through Thursday for stays now through December 31, 2017. Offer is subject to availablity and cannot be combined with any other offer or discount. Not valid for groups or any exisiting reservations. Valid by calling the Hotel: 707.847.3231 OR on Timber Cove Resort's website with promo code NOVO20.